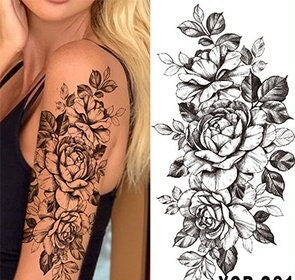 Handmade
Ships from a small business in
California
  ❤ [HALF SIZE &] collection tattoo stickers can cover your body parts larger
❤[WATERPROOF & LASTING] The raw materials of temporary tattoos are in compliance with FDA standards, waterproof, non-toxic and non-allergic, it can last for many days on the body.
❤[HIGH QUALITY] The effect of flowers tattoo is close to the real tattoo. It can deceive others by sticking on your body. You can stick it on the arms, back of hands, fingers, big feet, little feet, collarbone, north, neck, chest, etc.
❤[SHOW PERSONALITY] If you think real tattoos are painful, temporary tattoos are your best choice. You can choose the Fake Tattoo pattern you like to paste on your body without causing you pain. The fake tattoo can show your personality and express your ideas.
❤[QUICK & EASY TO APPLY] Remove clear film, Apply tattoo on clean dry skin, dab tattoo with damp paper towel, Remove paper, let tattoo dry. It's that simple! [SPECIAL ATTENTION] The tattoo sticker must not be wet with water in advance, and it must be wet on the body, otherwise the tattoo sticker will not stay on the body for long.
Temporary Tattoos Body Arm Tattoo Sticker Long Sleeve Fake Waterproof
100% Brand New,
Fashion Design,
High Quality!
Size: 8.3" X 4.5"
Occasion:
1. Nightclubs & Beach & Party & Outing & Wedding & Dating. It only need 1 minute to help you distinctive.
2. It can better integrate with the Plastic, Ceramic, Metal, Cloth, Glass surface. It can present more vivid colors, less likely to be scraped off, and keep longer time.
3. What could not be better is that the tattoo stickers can be affixed to the back of the phone along with a transparent protective shell.
Be Careful:
1. Different adhesive parts, Different Durability.
LONG LASTING: It will last for 3-7 days, depends on how many showers you take and how many times you scrub the tattoo with soap and water. EASY TO APPLY & REMOVE: Easy to apply in 10-20 seconds with just water and easily removed by rubbing alcohol, body oil, olive oil.
2. Waterproof
Not afraid to take a bath, but not rub with hot water and dash.
3. In oil
Apply moisturizer, sunscreen and other oily substances to be careful.
4. Afraid scraping
If wearing jewelry, watches, please pay attention away from them
Instructions For Use:
1. Decide Where you want to apply the Tattoo. Make sure your skin is clean, free of oil and dry.
2. Cut the tattoo out as the edge as possible.
3. Remove the clear sheet and place your tattoo on your skin face down.
4. Wet the paper with a wet towel or sponge and wait 30 seconds
5. Carefully remove the paper to check if it has transferred. If not, press a little longer. Be sure not to twist or stretch the skin until the tattoo has time to set.
How to Remove: Simply soak the tattoo with body oil, olive oil or alcohol for about a few minutes, then scrub off.
Note:
1.Not intended for children under 6 years.
2.Due to the difference Between Different Monitors, The Picture May Not Reflect The Actual Color Of the Item. Thank you!
Package Included:
1 Sheet Temporary Tattoo Sticker
alib tina .10-.20 cust des