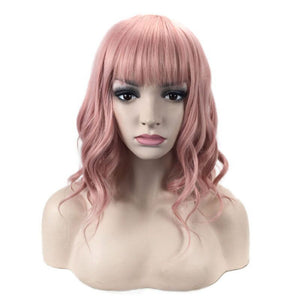 14 Inches Women Girls Short Curly Synthetic Wig with Air Bangs Lovely Pink

Feature:
Material:Synthetic Fiber

Color: Lovely Pink

Texture: Short Curly Hair with Air Bangs

Length: 14"

Package Including: 1x Wig, 1x Wig Cap

Washing Method:
1. The wig don't need to be washed frequently, but care and maintain it regularly
2. Smooth and tidy curly wig before putting them into water
3. Wash and care using a little mild shampoo in cold water
4. Clean cold water to rinse it again and towel to blot up the water
5. And then hang and dry it naturally.
Package content: